Representative Profiles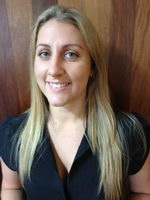 Name: Erin Gardner
Area Covered: Brisbane, Gold Coast & Surrounds
Contact Number: 0403 601 036
Email: erin@wilsontimbers.com
About Erin:
Erin has been employed by Wilson Timbers for over ten years. She was originally employed as receptionist and internal phone sales. After three years Erin developed an extensive amount of product knowledge whilst building a great rapport with her customers. Sub sequentially Erin was offered a promotion to become a Sales Representative and she embraced the opportunity.
Erin is an experienced, attentive and dedicated representative, committed to delivering outstanding service to her customers. She understands that "Time is Money" and will go that extra mile to get materials to you when required, even if that means jumping in a truck and delivering them herself. Her commitment to Wilson Timbers and her never say "No" attitude ensures her customers are always left smiling. But don't just take our word for it. Below are some kind and encouraging words from our customers about Erin's commitment to her role here at Wilson Timbers.
We have been using Wilson Timbers for over eight years and have had good experiences with all aspects of the business. Erin Gardner was appointed as our rep over a year ago and has given us outstanding service ever since. Erin has always followed up on enquiries and orders in record time to ensure our jobs run smoothly. Erin's ability and knowledge of all of the product range is extensive and commendable. I will always be happy to deal with Wilson Timbers and Erin in the future.
Luke Kruberg ( Director )
L.A.K Constructions
I have been an account holder of Wilson Timbers for the last three years and in that time could not speak more highly of this company. My rep is Erin Gardner. Having been a self-employed carpenter for twenty-two years it is refreshing to find someone as capable, efficient and willing as Erin. She has a "nothing is too much trouble" attitude making everything for me so much simpler. Everything from deliveries arriving on time, prompt response to emails, a good variety of hardwood and stock and an accounts department who are understanding when it comes to payment schedules, makes for a company that you couldn't fault. I recommend Wilson Timbers at every opportunity and rate their service second to none.
Steve Cossettini ( Carpenter )
I have had the pleasure of knowing and dealing with Erin through Wilson Timbers for the past seven years. In this time I have come to appreciate the dedication she shows to her customers and lengths she will go to. The amount of times a month Erin is able to arrange material for me on short notice or work her magic with suppliers is greatly appreciated. Of all the sales people I deal with day to day I can honestly say I'd be lost without her.
Dave Spieker ( Director )
Focused Constructions
We have worked with Erin as our representative for about four years now. When we first started using Wilson Timbers Erin made us feel that our business mattered to her. Erin has worked very hard to keep our business and when problems have arisen she has come through for us. We have a good business relationship with her and always have a laugh. Thanks for looking after us Erin.
Paul & Mitch Yeatman
Pamit Constuctions